Two of my cousins visited us today from Cagayan de Oro. Since we were not so hungry as we had a late breakfast, so I only ordered 2 pizza from Pizza Hut. They have an ongoing promo now for Php 499 or three pizza for Php 699.
I chose the Super Supreme flavor but I need to add another Php 40.00 to avail of the promo.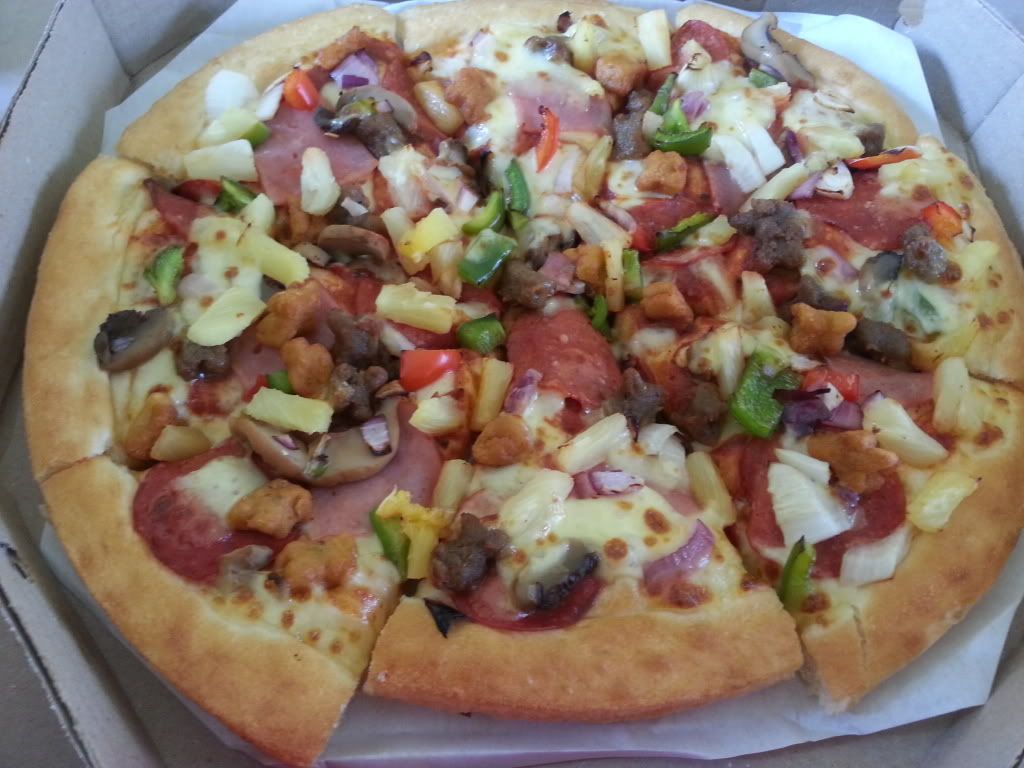 Second choice was a Pepperoni as this is the favorite of my eldest son.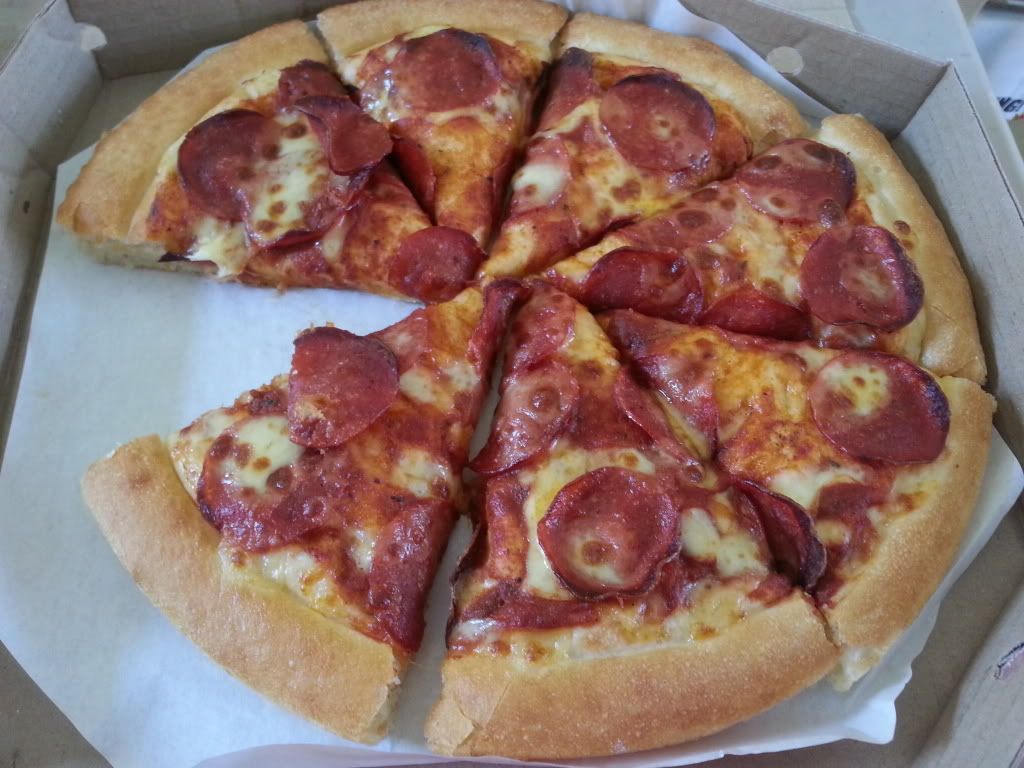 Pizza Hut is just a call away. In less than 45 minutes, the delivery man came knocking at the gate already. If you are from Bacoor, this is their hotline number 046-417 1111.
Without a doubt, a person gains weight and inches due to unhealthy lifestyle. These include lack of exercise and improper dietary practices. Since it is the latter which is the common culprit for unwanted fats, then this article will focus on that aspect.
If you want to burn calories, then opting for healthy foods specifically the fat burning foodstuff will improve your fat burning capabilities. The following list of food will simply enhance metabolic rate by virtue of nutrients and natural features like caffeine in green tea.
Oatmeal
Lean meats
Fish
Chicken and eggs
Broccoli
Green tea
Whole grains
Peanuts
Hot peppers
Lentils
Indeed the healthy foods will stoke your metabolic fire. However, you should remember that you also have to incorporate regular workouts to attain better results and keep the body in good shape.
If you're hosting a party, you might feel a bit pressured to make this party a success. But looking into a few essential details can help make a party worth remembering without the host over exhausting herself! A day before the scheduled party, prepare the entrees by washing the lettuce, making the dipping sauce and start baking the dessert. Some even prepare main courses before hand and simply work at reheating them when the party starts. If you are thinking of serving your guest with seafood, there are surely lobster for sale at the nearest wet market. Alternatively, you can search for lobster order online. Its easy, convenient and they'll deliver right in your doorsteps.
If you are up for balloon decorations, you can prepare them a night before so you'll have time to pump and design them.
Table setting, decorations except for fresh flowers of course, can be taken-cared of the day or night before. You can work at preparing a certain main course and order or buy ready to cook appetizers so you won't feel so harassed when the party in on the way. Once you've prepared everything, its your turn to beautify and pamper yourself.  Surely not nice to greet your visitors with a haggard face. Just sit back and enjoy your party!
Celebrating its two year online birthday just last month, the Dukan healthy diet plan is becoming more popular than ever. It is no secret that every diet has its downfalls and critics but it is also no secret that the Duchess of Cambridge has successfully used Dukan in the past…
As it is a new year, many people will be embarking on new diets and may have already found that a select few don't work for them. With Dukan, the simple four phase programme is easy to understand and the website is cutting edge in terms of personal support and development. The first Dukan diet phase is Attack which is an all-out cleanse of your system; high-protein foods and rigorous exercise. It sounds horrific, but this is the hardest part of the diet so survive this and you are well on your way to becoming a slimmer, healthier version of you. For this first phase, you eat purely high-protein meals with ingredients from the 100 safe foods list. This list is made up of 72 animal-based foods and 28 plant-based foods and at each stage you are allowed to eat a wider variety. This is to make sure you don't become too bored of the same foods throughout the diet and to provide you with the correct nutrients at the appropriate time.
Following the Attack phase there is the Cruise phase to get you down to your True Weight (calculated using your ideal and perfect weights) and the Consolidation phase which settles you into your new self. It is more than common for people who have lost weight to gain it very shortly after their weight loss plan has ended which is why Dukan have their final phase, Stabilisation. This ensures that you have the skills to keep feeding yourself healthily and allows you to keep as close to your True Weight as you want to.
As with any diet it is advisable to consult your doctor before embarking on a new regime as it is not suitable for everyone.
Weekends are always fun when you get a theme for your family lunch or dinners. The whole gang would be excited to know about the recipes you have and would be eager to help out in the preparations especially if what you're going to have is any one of their favorites. It's a good thing that most of us in the family loves seafood specialties and agreed to have fresh seafood delivery for our Saturday extravagant lunch. It works like a reward for working our best both at work and in school during the weekdays and when Saturday comes; we can all enjoy a leisurely and luxurious meal that we all love.
For this weekend, I'm thinking of preparing seafood marinara with penne pasta and my husband is requesting to order lobster online that he and our sons can grill together. I'm still finding recipes for dessert though, my kids are requesting for ice cream and I might just give in to what they want. All I need now are some numbers to call for delivery and a short walk to the convenience store for half a gallon of ice cream and some snow cones too. Thank goodness for online deliveries, enjoying family meal times is so hassle-free!
Cake decorating is one of the sugary arts that will not fail to amaze one's eye. If you are an aspirant baker who likes to decorate tasty cakes, check the following tips:
For the flat top, flip the cake and use the flat bottom. Decorate as you please.
Create S-shape swirls with the use of a teaspoon.
Decorate cakes to cover up spotty icing by piping large and small dots.
Add a simple silky texture and sheen appearance with butter cream frosting.
Sprinkle cakes with goodies.
Adornment will give the cakes a finishing touch. It will just require creativity and skills to come up with an attractive culinary creation.
I am a frustrated baker, really like to do it, but not enough time!
This month one movie channel has been playing the Harry Potter Series especially during Saturday night, which is just perfect because the kids will have their periodical exams until Friday. A Saturday night of movie marathon will be a wonderful way to relax for them and for the whole family to bond as well. This is one of our ways to just forget all the stresses of the past days. For the kids of course, it's about their exams and studying for the week, and for my husband and me, it's all about the deadlines and the pressure of work.
Harry Potter is one of the kids favorite movie series and lucky us because we can watch them one by one from the first installment up to the last part. What we need now however is to have an unlimited supply of popping corn to feed our popcorn maker. My husband the boys are great popcorn eaters and they can finish one whole bucket even before one movie starts! Good thing I found popcorn supplies such as cheese and barbeque power along with good quality popping corn from an online store recently. I don't have to scour every grocery store for our popcorn needs.
Cooking becomes a delight to an individual who is engrossed with foods. If you often visit the kitchen to prepare various dishes, you probably have your own set of favorite kitchen tools. These may include one or more of the following.
Flat whisks. This utensil is perfect for making gravies for fried chicken or pork and making sauces.
Stainless tongs. These tongs come in a variety of lengths. It can help in turning your fried foodstuff sideways.
Knives. These are essential to your kitchen. You can't slice meat and any other ingredients that demand a perfect cutting.
Pastry brushes. If you are into making pastries, spreading the melted will not be difficult with these pastry brushes.
The importance of utensils makes its mark on you as you go on with your passionate venture. Enjoy cooking!
One of the most awaited even during the holidays is the preparation of foods for Christmas dinner. In some places, people prepare a feast that can feed the whole neighborhood! Our family is one of those that prepare lot of food during the holiday because we get to have visitors from far friends, families and acquaintances. We tend to offer carolers with food that we've prepared much to their delight! One of our specialties is the Valenciana Paella which is a Spanish recipe consists of sticky rice, some sea food, chicken, pork, livers and some vegetables too. This rich mix of grains, meat and vegetables simply has a lot of flavourings that tickles the taste buds and satisfies the palate.
A huge pan of Valenciana Paella looks really colorful surrounded with other Christmas dinner staples such as salads, ham or turkey, grilled pork belly and so much more! After attending Christmas Eve mass, we're all looking forward to the food we have prepared and will share with the rest of the family. What makes these foods taste really good I guess is that it was prepared with joyous hearts and for the celebration of Christ's birth. So we're not only filled physically but also spiritually as we happily celebrate Christmas with our loved ones over a simple yet tasteful feast.
While we want to experience convenience in food preparation, I am still wary of many packaged foods I see on the grocery shelves. I hesitate at jumping into bandwagon of poster-calling nutritious food when I haven't checked out what's written on the food labels yet. I realize that I can choose healthier foods for my kids and my family by simply reading food labels and knowing that those figures really mean. The five most important things to look out for are the carbohydrate, protein, fat, sodium and fiber content. These things should be well moderated according to the body type, age group and health conditions of each member of the family so I always read the labels and ensure healthier food choices for the family.